Christian educational institutions have made a valuable contribution to the development of the people of Pakistan. Education was imparted in these institutions irrespective of color, race, or religion. The Christian institutions have also been known for character building of students throughout the country. The services of Christians and Christian educational institutions in the field of education are unforgettable.
The list of current rulers or characters of Pakistani history studying at Christian institutions is very long. Sir Syed Ahmad Khan, the founder of Aligarh University, was also educated at a Christian educational institution. He studied at Allama Iqbal Murray College, Sialkot. Similarly, Quaid-e-Azam also started his educational journey from the Mission School in Karachi. President General Musharraf, Late President General Zia ul Haq, General Asif Nawaz Janjua, Sheikh Rashid Ahmed and many other high-profile leaders and professionals have been groomed at Christian educational institutions. The sad part is that Zulfiqar Ali Bhutto's government nationalized educational institutions in 1972 and destroyed the educational system in the country by depriving generations of Pakistanis from quality education provided at Urdu medium missionary schools.  Subsequent governments have tried to de nationalize some of the schools but only half-heartedly.  
This platform appeals to the government authorities to return those schools in a manner that is fair and just by acknowledging the decades long services of Christians in the country.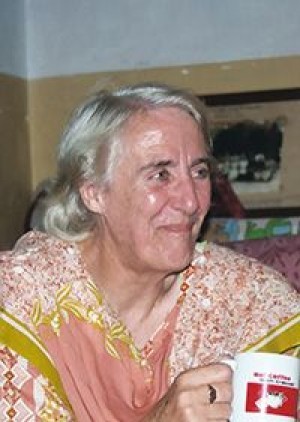 Catherine Nicol
Catherine Nicol, who moved from Scotland to 1961, and went on to serve there for 40 years, has been honored for her work with the education and nurturing of girls and young women. She is running an educational institute in Sialkot.
She has been awarded a medal from the President of the Islamic Republic of Pakistan. The Tamgha-e-Quaid-e-Azam, or Medal of the Great Leader, is a civil award conferred by the Government of Pakistan on those who have attained academic distinction in the fields of science, art, literature, or distinction in the fields of sports and nursing; or for rendering dedicated services with selfless devotion in human rights and public service. Catherine was also awarded an MBE in 2001, case "for services to the local community, Sialkot, Pakistan".
Prof. Yousaf Jalil
MA (Urdu, Persian, Arabic, Islamiat).
Master of Divinity.
PHD (Islamic Mysticism and Jurisprudence)
(Full bio coming soon)
Anjum James Paul
Anjum James Paul is the Assistant Professor and Head of the Political Science Department at Government Postgraduate College Samundri, district Faisalabad (Lyallpur), Punjab. He is the Chairman at Pakistan Minorities Teachers' Association, Director at Social Harmony Awareness and Development of Women Organization (SHADOW Organization), Convener at South Asian Professors Peace Forum, Secretary General at Child Rights Movement Faisalabad Division, Pioneer at International Nature Lovers Society, Member at Catholic Bible Commission Pakistan, Member at Review Committee of Punjab Curriculum and Textbook Board, and Member at Review Committee of Curriculum for Social Studies (2018) PCTB.